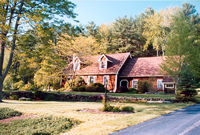 Rochester's natural beauty, quality of life and employment opportunities attract new residents.  Careful planning is conducted to ensure that the City continues to grow while preserving these wonderful attributes.  The Seacoast metropolitan area which includes Rochester, has been ranked among the top ten best places to live in America based on several categories including economy, education, health care, short commute to work, most desirable livability, and housing.  The Seacoast area has been described as the best-kept secret, living amid New England charm and a favorable economic climate.
Depending on the lifestyle you prefer and your budget, Rochester offers a wide array of affordable housing options. Whether you enjoy riverfront, high areas with spectacular views, rural or suburban neighborhoods, Rochester has much to offer residents.  Fine Victorian homes and colonial residences combined with new single-family and executive-style homes, condominiums, apartment complexes and mobile home parks fit a number of lifestyles.
For those who prefer to rent, single and multi-family homes, modern condominiums, apartment complexes and mobile homes provide a wide selection of rental options.  Affordable housing options are offered by the Rochester Housing Authority, a local agency that provides assistance in housing options to those with lower incomes.  A number of retirement homes and assisted living facilities with the security of on-site comprehensive care services and activities for the elderly are located in the City.  Many locally based real estate and property management firms who are familiar with the City and surrounding communities are available to help potential residents match their specific housing needs.
Member Realtors of the Greater Rochester Chamber of Commerce
MEMBER MOBILE HOME PARKS/ DEALERS
of the Greater Rochester Chamber of Commerce
LILAC PROPERTY MANAGEMENT AND REALTY
268 Lowell Street
Rochester, NH 03867
(603)335-2393
Quality mobile home parks and sales
NEW STYLE HOMES
22 Milton Road
Rochester, NH 03868
603-332-0545
www.newstylehomes.com
Modular/ manufactured homes, site development
RENTAL HOUSING INFORMATION
of the Greater Rochester Chamber of Commerce