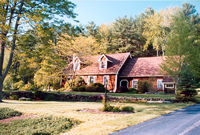 Rochester's natural beauty, quality of life and employment opportunities attract new residents each year.  Careful planning is conducted to ensure that the city continues to grow while preserving these wonderful attributes.  Rochester continues to do a great deal to address housing needs. Several housing units have been recently added in downtown and several other housing projects are underway in the city.
Depending on the lifestyle you prefer and your budget, Rochester offers a wide array of affordable housing options. Whether you enjoy riverfront, higher areas with spectacular views, rural or suburban neighborhoods, Rochester has much to offer residents.  Fine Victorian homes and colonial residences combined with new single-family and executive-style homes, condominiums, apartment complexes and mobile home parks fit a number of lifestyles.
For those who prefer to rent, single and multi-family homes, modern condominiums, apartment complexes and mobile homes provide a wide selection of rental options. Various housing options are also offered by the Rochester Housing Authority, a local agency that provides assistance in housing options to those with lower incomes.  A number of retirement homes and assisted living facilities with the security of on-site comprehensive care services and activities for the elderly are offered.  Many locally based real estate and property management firms who are familiar with the City and surrounding communities are available to assist potential residents match their specific housing needs.
Member Realtors of the Greater Rochester Chamber of Commerce
Real Estate Contacts
Admiral Property, LLC                                                                603-923-7472           www.admiralproperty.co
Better Homes & Gardens Real Estate                                     800-741-1540           www.massiello.com
Brady Sullivan Properties                                                          603-622-6223           www.bradysullivan.com
CBRE-Portsmouth                                                                      603-427-1333           www.cbre-portsmouth.com
Colliers International/New Hampshire                                   603-433-7100           www.colliers.com
Compass Home Inspections, LLC                                           603-973-4768           www.compasshomeinspection.net
Hourihane Cormier & Associates                                            603-332-9500           www.hcarealestate.com
Integrity Home Team at Bean Group                                       603-948-1060           www.yourintegrityhometeam.com/
Keller Williams Coastal Realty-Lesniak Home Team            603-610-8571           www.lesniakhometeam.com
Keller Williams Coastal Realty-Zoeller Realty Group             603-817-4113           www.thezoellergroup.com
McGroen Partners, LLC                                                              603-332-6551           www.mcgroenpartners.com
Pease Development Authority                                                   603-427-0433           www.peasedev.org
Rochester Housing Authority                                                     603-332-4126           www.rhanh.org
RSA Realty, LLC                                                                            603-332-1100           www.rsarealty.com
Spaulding Avenue Industrial Complex                                      603-731-0196           www.spauldingave.com
Strafford County Board of Realtors                                           603-330-3131           www.scbr.org
Waterstone Properties Group                                                     781-559-3301           www.waterstonepg.com
Apartments/Condominiums
Brook Farm Village Condo Rentals                                            603-332-9200           www.bfvcondorentals.com
Brookside Place Apartments                                                      603-335-6673           www.brooksideplace.com
Cornerstone Court Adult Community                                        603-332-4808           www.cornerstoneadultcommunity.com
Country Brook Apartments                                                          603-332-8444          www.countrybrookapartments.com
Partridge Green Apartments                                                       603-332-8852
The Village at Clark Brook Apartments                                     603-332-8444          www.metropolispmg.com
Mobile/Modular Homes
Lilac Property Management                                                        603-335-2393           www.lilacpmr.com
New Style Homes                                                                          603-332-0545           www.newstylehomes.com
Retirement Community                                                           
Cocheco River Estates                                                                  603-335-2276           www.toysmanufacturedhousing.com
Stony Brook Cooperative, Inc.                                                      603-224-6669
Tara Estates Retirement Community                                          603-332-4030           www.taraestates.mhvillage.com
Assisted Living
Desiree's Place                                                                               603-332-6455
Lincoln Terrace Home                                                                  603-330-3030
Rosewood Manor, LLC                                                                 603-335-3966
Spring Village at Dover                                                                 603-842-4908           www.springvillagedover.com
Wentworth Home                                                                          603-742-7406           www.wentworthhome.org
RENTAL HOUSING INFORMATION