Rochester is a major contributor to the state's tourism industry.  Rochester offers several lodging accommodations including a luxurious inn and attractive motels prepared to serve tourists and business travelers. Cottages are available for rent and several campgrounds are located in and around the City to offer family getaways with swimming, boating, fishing, trails for hiking and a variety of activities for the family vacation.
Wildflowers blooming in the spring are enjoyed around the state by those visiting our parks, nature trails, bike paths, walking paths, fishing and picnic areas.
The Rochester Fair attracts thousands to Rochester in the fall.  And no matter where you travel in the fall in New Hampshire, you can't miss the spectacular and breathtaking foliage that brings thousands of tourists.  Foliage hotlines are accessible during this colorful season to provide information on this scenic delight.
Based on the many things to see and do in the region, the NH Department of Travel & Tourism and area chambers of commerce produce maps and guides to promote the many opportunities available to visitors. These guides can be found at chambers of commerce, rest areas and a number of establishments in and around the state.
Rochester also offers convenient access to a number of attractions and tourist areas located in the region and throughout the state, including the beaches of the Seacoast region, the White Mountains with its world class ski resorts and the lakes region offering a wide array of attractions. Lake Winnipesaukee, located 30 minutes from Rochester, is the state's largest lake that surrounds several communities and features a number of attractions.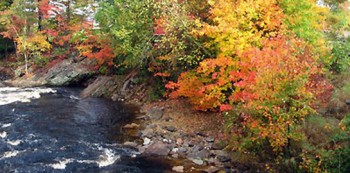 Greater Rochester Chamber of Commerce
18 South Main Street
Rochester, NH 03867
Phone: 603-332-5080
Fax: 603-332-5216
www.rochesternh.org
NH Travel & Tourism
Phone: 603-271-2665
www.visitnh.gov
LODGING OPTIONS
of the Greater Rochester Chamber of Commerce