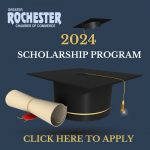 The Greater Rochester Chamber of Commerce provides $500 or more in scholarship(s) to eligible students graduating from high school.
Students eligible for the Greater Rochester Chamber of Commerce scholarship must be graduating seniors in high school who are either employed by or have a parent employed by a company that is a member of the Greater Rochester Chamber of Commerce.
The recipients are selected in April and are awarded in May/June at their school's scholarship ceremony/graduation. The scholarship awarded is payable directly to the institution the student attends in their second year of attending a full-time college, university or technical school.
Scholarship guidelines and applications are made available here and at high schools in the region, or at the Chamber office located at 18 South Main Street in Rochester, NH as of December 1. The deadline to submit the completed scholarship application is March 29, 2024.
Chamber member businesses are also provided the opportunity to be named a Chamber Scholarship Champion by becoming a $100 donor to benefit the Chamber Scholarship Fund. This fund enables the Chamber to be able to provide scholarships annually to graduating high school seniors. For more information on becoming a Chamber Scholarship Champion, call the Chamber office at 603-332-5080 or email memberservices@rochesternh.org.
CONGRATULATIONS TO OUR 2023 SCHOLARSHIP RECIPIENTS:
Amy Powers, Spaulding High School
Matt Ryan, St. Thomas Aquinas High School
Jadyn Stevens, Spaulding High School
Be a Scholarship Champion!
Each year the Chamber seeks donations for our scholarship program.
Please consider having your business support this program that directly helps graduating seniors toward their college expenses.
Scholarship Champion donors will then be listed:
~ On this website page
~ On social media
~ In the Chamber's Update Newsletter
~ In a press release
~ In an e-blast
~ At the Scholarship Ceremony
See the form for more details on the donation and promotion levels: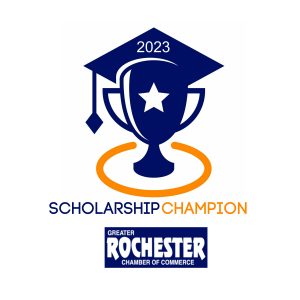 Our 2023 Scholarship Champions:
Collier's International
Compass Home Inspections, LLC
D.F. Richard Energy
First Seacoast Bank
Granite Steak & Grill
Healey Auto Repair
Hervey's Tire Co., Inc.
John C. Pratt Co.
Laars Heating Systems Co.
New Hampshire Wheels
Profile Bank
Waste Management
Wit-Way Supply